Relieves Back Pain - Laying on the cushion quickly relieves your back pain caused by stiff muscles, herniated discs, sciatica, scoliosis, bulging discs, spinal stenosis, and pinched nerves.

Restores Natural Curvature - It helps to restore that healthy, strong, natural curvature of your back which gives you a healthier, confident, and attractive look!

Corrects Posture - Easily fixes postural imbalances preventing tired muscles. Which means more energy to spend on things that actually matter to you!

Improves Flexibility - Enhance your flexibility by decompressing your back while enjoying a deep sleep. Relieving your back pain and tired muscles after the first night!
Why choose the Lumbar Pillow?
DESIGNED TO FIGHT BACK PAIN

Our lumbar pillow is a simple, non-surgical way to create space between the vertebrae, fight lower to mid back pain, and improve posture.
Back pain is a chronic condition that countless people struggle with daily. If you're one of them, you know how not only uncomfortable it can be, but also how annoying it is!
Our lumbar pillow is 100% safe and super easy to use!
Our pillow has been shown to reduce back pain and improve posture in less than 1 weeks. You literally will feel the change.
It comes in 2 adjustable heights - moderate and advanced for those required a deeper stretch, you can install the height disc under the main cushion.

A CUSHION THAT MAKES THE DIFFERENCE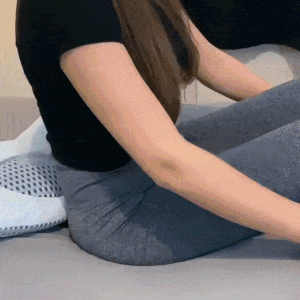 By sleeping on the pillow, your lower back will align further upwards allowing to release tension in your spine. Pinched nerves causing pain will decompress allowing immediate pain relief.
In addition, our orthopedic pillow can provide extra stability for your lumbar spine and adjust it to the correct position for long-term improvement.
Therefore, the more you sleep on the pillow, the less pain and tension you feel, and your posture will improve in the long run.
Progressive Pain Relief - It takes some time for your body to adjust to the pillow. The buckwheat core will start to conform and mold to the contours of your lower back providing a firm upward lift.

"I am disabled and have a lot of back problems I cannot tell you how many back pillows and lumbar pillows I have purchased it is unbelievable most of them do not work and are very uncomfortable this is the first one I have purchased where I can actually say it is comfortable and that it helps I have a lot of lower back problems and I am my side sleeper and this works great and it's comfortable."

"This pillow caught my attention with its unique ergonomic design. There is a firm round pad in the center of pillow. It serves as support area besides firm pillow itself. I decided to give it a try. On the first night my wife used it, she loved this pillow so much. Since the unique design of the pillow, it supported her lower back so well and still gave her the comfort for her sleep. She has been using it every day for the last 10 days. She definitely has better sleep and less pain when waking up in the morning. I am so happy to see this pillow work so well on my wife. We felt finally we found something that really helps."

"I've have severe lower back pain for years & slept with all kinds of lumbar support pillows to little or no avail. This immediately relieved the tailbone & lower back pain & I got sound sleep for first time in years. It's held true for 3+ weeks now, & I couldn't be more pleased. Side sleeping is awesome. Please get this back in stock ASAP so I can have one for office & car too & give my friends for Xmas.
It's reasonable in cost & breathes so ur back doesn't get hot. PERFECTION!"






Buckwheat Hulls
Our signature buckwheat hulls central core delivers remarkable back support, enhanced airflow and lasting durability.
High Density Cotton
Comfortable pearl cotton offering extra support while still maintaining the shape of the pillow.
Breathable Mesh Linen
Breathable and hypoallergenic, this luxurious open mesh provides just the right bounce while keeping you cool all.
Each person's body reacting differently to our products, Optimalax cannot commit to a success rate of 100% or an exact duration before relief. We offer thirty days to try our products risk-free and see if it really works for you.
If you feel that the product does not help you, we will refund you after receiving the product back. The only condition is to return the massage set to us in good condition.

97 000 customers since 2012

30 Days money-back guarantee