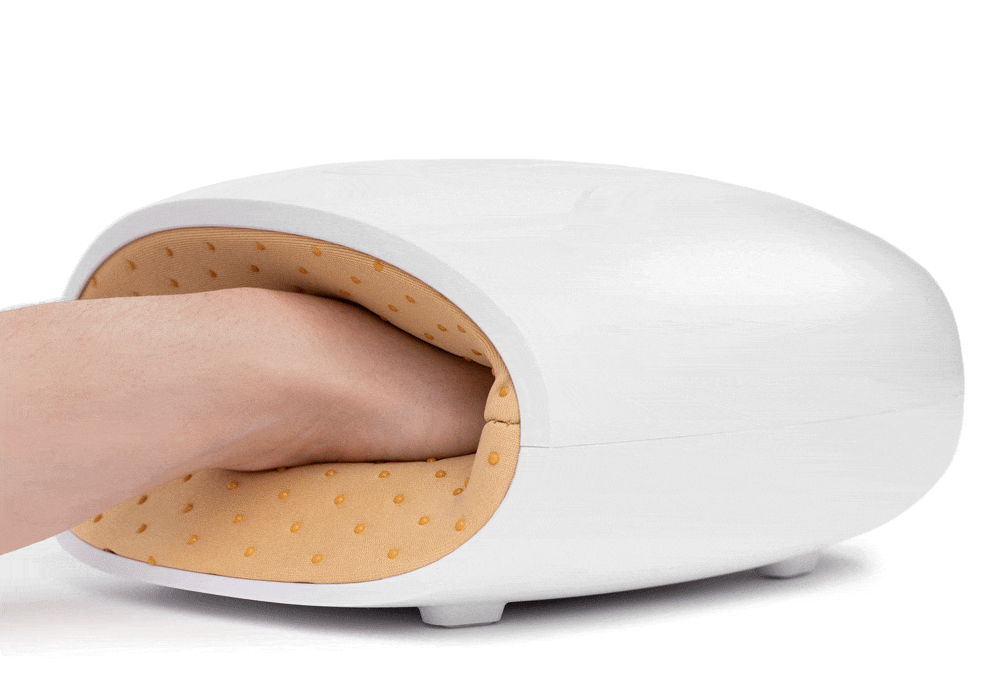 Have someone special in mind? The Hand Massager is the perfect gift for anyone dealing with hand pain and a great at-home massager to help relieve pain from:
Your Personal Hand Pain Reliever
A MASSAGE FROM THE COMFORT OF YOUR HOME

Finally gently relieve your hand pain at home!
You deserve to be pain-free and get a better nights sleep. The Hand Massager provides a 15 minute gentle massage along with heat therapy that helps relieve your painful, achey, numb, stiff, tingly, and cold hands by promoting blood circulation.
Let us help ease your sore muscles and reduce your hand pain in the comfort of your own home!
Designed With Your Hand In Mind

The Hand Massager is designed with your health in mind and helps soothe your hard-working hands that get tight, sore, stiff, and cramped.
The Hand Massager provides a soothing comprehensive Finger-to-Wrist Hand Massage. Revitalizing air compression cells envelop your entire hand, pulsing rhythmically to apply gradual pressure and help reduce your hand pain, while gently stretching your palm and fingers

"I massage clients daily making my hands sore. This is a great device to massage the hands. It is a soothing and comfortable device." Sonia

1. The Hand Massager targets the pressure points in your hand with its built-in air compression and nodes to help soothe your entire hand and fingers. (3 Levels of intensity)

2. Three intensity levels and two heating levels help increase your blood and oxygen circulation to help relieve your numb, stiff, cold, and painful hands.
3. The Hand Massager also features 2 hand-size modes. Which allows The Hand Massager to adjust to your hand for a more personalized massage.
Charge it once and you can massage your hands for hours without worrying about cords or outlets.




DON'T JUST TAKE OUR WORD FOR IT...

"Excellent product. I used it right after unpacking and had a wonderful hand massage. Made of very good quality and delivery was quick. Specially very good value product for its price. shop and this hand massager is highly recommended"

"Wow! This hand massager really works, it seems to inflate and massage. It really has some compression! I use it two ways one with fingers inside and one with fingers sticking out so I get the compression and massage in different areas of my hand. It compresses tight to the hand and releases, repeat. Different settings."
"I bought this for my mom for Mother's Day, and she loves it. She uses it every day on both of her hands, which have arthritis and carpal tunnel in them. She said it's basically one of those massage chairs but for you hand. She likes that it has heat too. My mom is really happy with it, and when I asked what she'd rate it in a review, she said 5 stars. So five stars it is!"
FREQUENTLY ASKED QUESTIONS
Does The Hand Massager™ really work?

Scientific evidence has shown that a regular hand massage may help ease pain, increase hand strength, and reduce feelings of stress and anxiety. The Hand Massager can complement treatments for arthritis, carpal tunnel syndrome, neuropathy, and other conditions.
Can I put my foot in The Hand Massager?
The Hand Massager is meant for your hands only. A foot can theoretically fit in The Hand Massager, but we are not sure if it will benefit your foot pain.
Does this work for Arthritis, Carpal Tunnel Syndrome, Rheumatoid Arthritis, or Neuropathy?
Yes, The Hand Massager will help soothe pain from these hand conditions as well as many others.
How long can I use The Hand Massager for?
We recommend using The Hand Massager no more than 30 minutes per hand per day. The Hand Massager has an automatic 15 minute shut-off feature to prevent overuse.
Do large hands fit in The Hand Massager?
Yes, large hands fit in The Hand Massager. The Hand Massager has a massage mode for people with bigger hands as well.
WHERE CAN I BUY YOUR PRODUCT?

We currently only sell online.
DO YOU OFFER PRODUCT WARRANTY?
Sure. Our products come with a 30 Day warranty. You can read more about our product warranty policy in the Refund Policy section.
WHAT IS THE TYPICAL SHIPPING TIME?

Shipping Time: 6-15 Business Days. Please refer to our Shipping Policy section for details.
Includes:
1x Electric Hand Massager.
1x USB Type-C Charging Cable
Intuitive display of keys:
3 Massage Strengths / 2 Hand Size Options / 2 Heat Modes
Hand Massager Dimensions:
7.5 inches Length x 6.30 inches width x 3.5 inches height
Battery:
2200mAh Lithium-ion battery
Power Supply:
USB Type-C Charging Cable
Rated Power:8W
Automatic shutoff after 15 minutes

Each person's body reacting differently to our products, Optimalax cannot commit to a success rate of 100% or an exact duration before relief. We offer thirty days to try our products risk-free and see if it really works for you.
If you feel that the product does not help you, we will refund you after receiving the product back. The only condition is to return the massage set to us in good condition.

900 000 customers since 2012.

30 Days money-back guarantee